09 May

Illac Diaz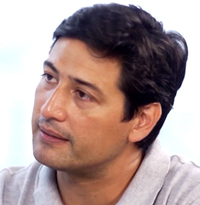 Illac Diaz is a social entrepreneur working to empower communities in the Philippines and around the world through several pioneering programs in rammed earth, bamboo, and PET plastic bottle construction.
Illac founded the MyShelter Foundation in 2006 to promote grassroots sustainable development through capacity-building and employment-generating projects. Introducing groundbreaking social enterprise, appropriate low-cost technologies, and alternative construction in the Philippines, the MyShelter Foundation has pioneered projects such as the Pier One Seafarer's Dormitory, the Design Against the Elements (DAtE) competition, and the Bottle School Project.
Illac's latest venture, 1 Liter of Light (Isang Litrong Liwanag), is the world's first grassroots green lighting program bringing low-cost, zero-carbon solar bottle bulbs to underprivileged communities worldwide. By empowering local entrepreneurs and marginalized groups like prison detainees and trash pickers, this initiative shows how simple solutions powered by human hands bring the green revolution to the bottom 99%. Since its launch in April 2011, 1 Liter of Light has lit up over 350,000 households in the Philippines and around the world.
Illac's vision is to improve one million lives a year and to reframe the way people think about solutions to climate change not as a product of industrialized nations, but as a gift that developing countries can share with the rest of the world.
Illac holds a Masters Degree in Social Entrepreneurship from the Asian Institute of Management (AIM), a Masters Degree in Urban Studies and Planning from the Massachusetts Institute of Technology (MIT), and a Masters Degree in Public Administration from the Harvard Kennedy School.