16 May

Fiamma Degli Innocenti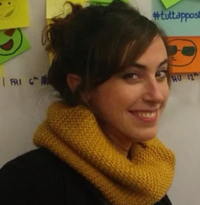 Fiamma graduated at the University of Florence in Development Economics and International Cooperation with a dissertation about alternative and inclusive financial models (from microcredit to P2P Lending) supervised by Ugo Biggeri. After working in 2012 as part of the Social Business Team at the Yunus Centre of Dhaka, Bangladesh, since then she has been supporting the launch of social businesses and consulting on crowdfunding and innovation as part of the first italian incubator for social and cultural enterprises, Make a Cube.
Her drive for advocacy and global movements led her to launch in 2015 the first Italian edition of 100in1day, the global bottom up festival of urban creativity, with the aim of experimenting new forms of hybrid participation by engaging citizens in improving urban public spaces through 100 initiatives carried out in 24 hours.
Currently based in Berlin, she is Fundraising Officer at UAEM Europe and attends the HPI School of Design Thinking while keeping a long lasting collaboration with the Yunus Social Business Centre of the University of Florence. Outside working hours she enjoys volunteering in Make Sense, a global grassroots movement to foster social business.