16 May

Emanuele Santi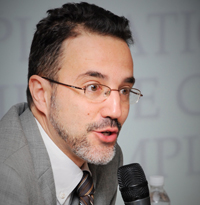 Emanuele Santi is a Lead Strategy Advisor at African Development Bank (AfDB), after holding various senior positions at African Development Bank and at World Bank.
Founder and coordinator of Souk Attanmia, the largest mobilization of partners to support social entrepreneurship in Tunisia in the aftermath of the Arab Spring, he is leading a number of innovations at the AfDB, aimed at catalyzing the Africa's dynamic entrepreneurial class and supporting the market emergence of innovative forms of financing in the continent.
He holds a PhD in Development Policies from Universities of Trieste/ Paris Sorbonne, and Master in Economic Studies from College of Europe in Bruges. While he spent most of his career living and working in Africa his work experience spans across around 30 countries from Central Asia to Latin America.