23 Mar

Elena Casolari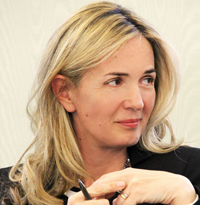 Elena  is co-founder and Executive President of  Opes Impact fund, the first Italian investment vehicle targeting early stage social enterprises in East Africa, India and soon Italy, aimed at contributing in covering the "pioneer gap".
She is also CEO of Fondazione ACRA, an INgo whose mission is to support inclusive businesses tackling critical  issues at the Base of the Pyramid. Furthermore Elena sits in the BoDs of four organizations and enterprises (Fondazione Umano Progresso, E&E Ltd., Social Enterprise World Forum C.i.C, and the new born Social Impact Agenda per l'Italia).
She is also member of the Steering Committee of Opportunity Collaboration, a global network of leaders dedicated to building sustainable solutions to poverty. Previously, she worked for over a decade in investment banking in emerging Countries (HSBC, Dresdner Kleinwort Wasserstein and Nikko Securities).
Elena graduated in Economics from Bocconi University in Milan and she was a researcher at the Hitotsubashi University in Tokyo for two years.